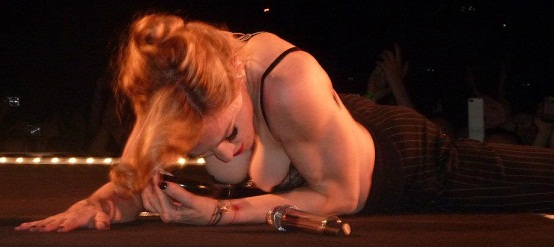 Durante os ensaios de concertos anteriores na Europa, incluindo Colônia, Paris Stade de France, ou Birmingham Amsterdam, Madonna repetiu algumas músicas não incluídas no setlist da MDNA TOUR: Beautiful Killer, Love Spent, Like A Prayer 2008, Je T'Aime, Moi Non Plus…. Essas músicas devem logicamente ser incluídos no concerto no Olympia.
O show de Madonna será transmitido pela internet e possivelmente será pelo site oficial de Madonna, o Madonna.com. Ainda não é confirmado se esse show também poderá integrar o DVD/Blu-ray oficial da turnê.
Além disso, aqui está uma notícia que vai agradar muitos fãs de Madonna: Get Together será parte do show próxima quinta-feira, 26 de julho!
O setlist especial Olympia poderia muito bem ter esta aparência:
Girl Gone Wild
Beautiful Killer (Die Another Day Mash-Up).
Gang Bang
Papa Don't Preach
American Life
I Don't Give A
Heartbeat Interlude
Express Yourself
Turning Up The Hits Interlude
Turn Up The Radio
Open Your Heart
Je T'Aime, Moi Non Plus
Masterpiece
Justify My Love Interlude
Vogue
Human Nature
Love Spent
Like A Virgin
Nobody Knows Me Interlude
I'm Addicted
Get Together
Like A Prayer
Celebration
Nada é oficial, então…As informações são do site Madonnalex.