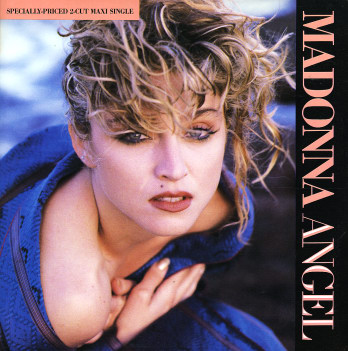 Angel/Into The Groove, foi o terceiro single do álbum Like A Virgin de Madonna nos Estados Unidos e foi escrito por Steve Bray, foi lançado no dia 10 de abril de 1985 e hoje completa 27 anos.
Sobre Angel, debutou na Billboard na posição 48 no dia 27 de abril em 1985, enquanto o single de Crazy For You era 2º. Depois de 10 semanas, a música alcançou o #5 no Hot 100 da Billboard.
Madonna queria um álbum mais forte, mais orientado para o pop, no caso, o álbum Like A Virgin, daí as canções deveriam refletir este ponto. Uma das primeiras canções que eles, Madonna e Steve Bray, desenvolveram foi Angel. Madonna comentou que a canção era sobre uma garota que caiu em depressão sobre algo, então um anjo apareceu e curou sua alma, fazendo-a apaixonar-se loucamente apaixonada por ele.
A canção foi gravada logo em abril de 1984, mas todo o projeto atrapalhou-se, para grande frustração de Madonna, pelas vendas do álbum Madonna que estava forte nas paradas na época. Angel seria o primeiro single do álbum, mas Madonna mudou de idéia, após a gravação da faixa-título Like a Virgin. Angel foi finalmente lançada como o terceiro single e incluiu a canção "Into the Groove", como b-side do maxi-single de 12 polegadas.
Madonna tinha inicialmente planejava lançar um videoclipe para "Angel", mas depois decidiu não fazê-lo, já que cinco clipes de Madonna passavam o dia inteiro na TV. Daí, Warner Bros. e Madonna sentiram que lançando outro vídeo para os canais já saturados poderiam prejudicá-los. Um vídeo promocional, que contém cenas de vídeos de "Burning Up", "Borderline", "Lucky Star", "Like a Virgin" e "Material Girl" foi feito pela Warner Bros. Records e foi lançado no Reino Unido. O vídeo foi incluído nas compilações promocionais de Madonna em VHS, It´s That Girl e She's Breathless.
Já Into The Groove, de Madonna, é o tema do filme "Procura-se Susan Desesperadamente". A questão do filme se considerado por muitos como um filme "vídeo de rock" surgiu após a adição de Into The Groove, uma canção escrita especialmente para tocar durante os créditos finais. Conscientes de quão popular Madonna estava se tornando, a diretora Susan Siedelman perguntou-lhe se ela seria capaz de fazer uma canção que poderia tocar nos créditos finais do filme "Procura-se Susan Deseperadamente" – a ideia era que a canção servisse de divulgação para todo o mundo o filme.
Madonna e o co-escritor Steve Bray foram rápidos. As letras soam como a personagem de Madonna no filme, Susan, enfatizando ainda mais a sua importância no filme. "Eu estava sentada em um quarto andar na Avenida B e lá tinha lindos rapazes porto-riquenhos sentados em minha frente que me inspiraram," explicou Madonna sobre a composição de Into The Groove. Madonna escreveu a letra e no estúdio improvisou vários versos de última hora. Nada difícil para ela.
Se Like A Virgin e Material Girl foram dois grandes passos de Madonna em direção ao status de superstar, Madonna arrematou com Into The Groove. Embora não lançado como um single (foi lado-b do single de Angel) nos EUA em 1985, Into The Groove estava por toda parte, e no resto do mundo, tomou emplacou o #1 de inúmeras paradas de singles e a rainha do pop ficou certamente muito feliz com tudo aquilo. No Reino Unido, é um dos seus singles mais vendido com 860 mil cópias, chegando a apenas tímido de milhões de unidades, e também seu primeiro single #1 e o terceiro single mais vendido no Reino Unido em 1985.
A razão de Madonna não lançar o single na América do Norte foi simples: ele iria ofuscar as vendas de Angel, o atual single de Like A Virgin na época. Em vez dele foi colocado no maxi-single de Angel para alavancar nas vendas do single e ser certificado pela RIAA. Into the Groove foi nomeada pela Billboard magazine como o "Dance Single da Década". No dia 30 de julho de 1985, foi certicado ouro pela RIAA com vendas de 1 milhão de unidades. Por ser b-side de Angel, não pode entrar na no Hot 100 da Billboard.
INTO THE GROOVE foi o registro perfeito para firmar Madonna como artista de primeira grandeza. Encapsulando a necessidade do mundo a celebrar com a consciência no evento beneficente Live Aid, em 1985, na Filadélfia, tornou-se uma das mais memoráveis performances do evento. Na Europa, a canção foi adicionada numa nova prensagem do LP de Like A Virgin. E enquanto Madonna estava em primeiro com In The Groove, Holiday estava em segundo lugar – Madonna tornou-se então a primeira artista a ter dois singles em #1 e #2 lugar simultaneamente no Reino Unido. O single foi lançado dia 23 de julho no Reino Unido
Em 2009, foi incluída na coletânea CELABRATION e na coletânea de 1990 THE IMMACULATE COLLECTION. Também como remix no álbum YOU CAN DANCE, na trilha sonora do filme e foi regravada com a cantora Missy Elliot numa versão chamada "Into the Hollywood Groove", em 2003
CHARTS MADONNA – INTO THE GROOVE
Austrália – 1
Áustria – 6
Bélgica – 1
Holanda – 1
Brasil – 1
Europa – 2
França – 2
Alemanha – 3
Irlanda – 1
Itália – 1
Japçao – 1
Nova Zelândia – 1
Noruega – 3
Espanha – 1
Suécia – 3
Suiça – 2
Reino Unido – 1
US Hot Dance Music/Club Play – 1
US Hot R&B/Hip-Hop Songs – 19
CHARTS MADONNA – ANGEL
Australia – 1
Bélgica – 18
Canadá – 5
Holanda – 46
Eurochart Hot 100 Singles – 14
Alemanha – 31
Irlanda – 3
Japão – 5
Nova Zelândia – 2
Espanha – 2
Suiça – 17
Reino Unido – 5
US Billboard Hot 100 – 5
US Hot Adult Contemporary – 5
US Hot Dance Music/Club Play – 1
US Hot R&B/Hip-Hop Songs – 71
Veja o clipe oficial de MADONNA – ANGEL
Assista ao clipe oficial de MADONNA – INTO THE GROOVE