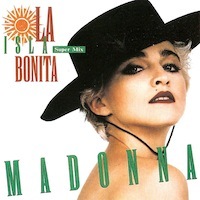 Madonna compõe suas próprias músicas? Sim, e não. Ela não compõe a melodia, com certeza. E agora que a Srta. Ciccone foi indicada ao Hall Of Fame de compositores, achei que seria interessante resolver a questão de uma vez.
Ontem à noite, conversei com Patrick Leonard, o grande compositor de sucessos Pop e, às vezes, até um compositor-fantasma para astros do Rock que precisam de ajuda para colocar o trabalho no papel. Leonard é um músico treinado, que pode tocar qualquer coisa. No telefone, de Amsterdã, onde ele está trabalhando com Leonard Cohen, Patrick tocou Like A Prayer pra mim em seções diferentes. Ele compôs a melodia deste sucesso, assim como de muitos outros sucessos de Madonna durante os dias de ouro nas paradas.
Patrick Leonard compôs a melodia de, entre outras: Like A Prayer, Cherish, True Blue, Live To Tell, La Isla Bonita, Frozen, Hanky Panky, Sky Fits Heaven, Nothing Really Matters, I'll Remember, e Something To Remember.
Ele foi um dos produtores de Open Your Heart. Madonna escreveu a letra, disse Leonard, com ele, e ajudou a criar as melodias. Ele a considera uma amiga e mentora. "Ela me colocou no mapa", ele disse.
"Sou grato. Sou uma daquelas pessoas nos bastidores", disse Leonard. "Se ela (Madonna) não tivesse cantado essas músicas, ninguém as teria ouvido. Ela tornou possível para mim fazer o que faço agora".
O processo deles era simples. Ele compunha a melodia e levava a Madonna. Ela ajudava com a letra e oferecia mudanças para a melodia combinar com ela. "Ela a refinava", disse ele. "Você dá a faixa a ela, ela canta a melodia. Ela é muito talentosa". Da colaboração deles, ele disse, "Um não existia sem o outro. Ela sempre aparecia e se envolvia. Na verdade, sinto falta dela".
Eles não compõem juntos desde 1997. Ele gostaria de fazer de novo? "De forma alguma", disse Leonard. "Ela compõe muito com DJs agora".
Leonard foi creditado em todas as músicas que compôs com Madonna, incluindo o maior número de sucessos nos quais ela está creditada como co-compositora. Nenhuma foi creditada apenas a Madonna. E várias delas foram compostas apenas por outros, incluindo Holiday, Like A Virgin, Material Girl e Borderline.
Leonard me contou que não ligaria se Madonna entrasse no Hall Of Fame de compositores sem ele. Ele não acredita em prêmios, nem ao menos pendura seus discos de ouro. "Eles estão em um armário, em algum lugar", disse. Ele apenas acredita em evoluções. Nesta semana, ele irá a Nova York para trabalhar com Roger Waters.
Roger Friedman
showbiz411.com