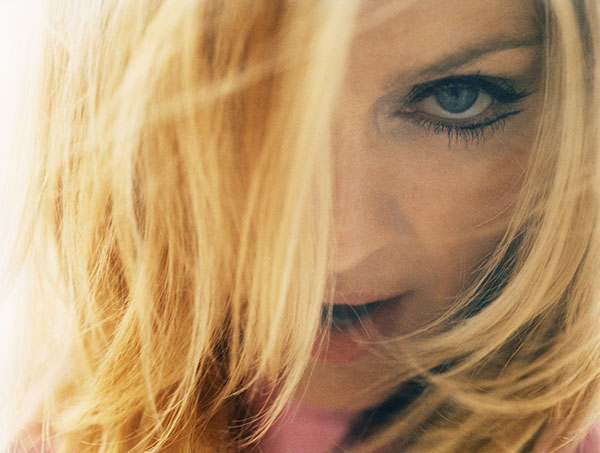 (Artigo Attidude Magazine) – A mulher que sempre esteve acima das mídias sociais vem tendo um romance tórrido com elas ultimamente. 2014 será sempre conhecido por este fã como o ano em que a Material Girl abraçou o Instagram e nos concedeu tudo: de fotos dos seios a uma homenagem a axilas cabeludas. E eu amei! Pelo iPhone, Madonna nos levou pra trás da cortina prateada – até mesmo para o seu banheiro elegante no lado leste de Manhattan, para testemunhar desde seu suor pós-treino até o filho David Banda na guitarra.
Porém, o mais fascinante foi o jeito brega com que ela nos chamou para entrar no estúdio de gravação. A Rainha do Pop tem provocado o mundo com o progresso do seu 13º álbum ainda sem título (a menos que seja chamado Unapologetic Bitch – Senhor, espero que não!).
A lista de colaboradores potenciais, até então, é impressionante: o produtor Ariel Rechtshaid, o co-compositor de Wrecking Ball MoZella, Diplo (que produziu MIA), o DJ/Produtor Avicii, o ex-colaborador da Lady Gaga Martin Kierszenbaum, a cantora pop Natalia Kills, e o criador de hits Toby Gad.
A foto postada recentemente é emocionante: uma homenagem a Betty Page, veus misteriosos e imagens religiosas? Veja só. Mas há também alguma preocupação. Por quê? Porque Madonna parece estar perto de acertar. E todos sabemos o que acontece quando Madonna erra um pouco. Duas palavras: Hard Candy.
Algumas pessoas podem argumentar que o último álbum de estúdio, MDNA, foi uma decepção. Na verdade, eu adoro vários momentos do álbum, mas havia uma sensação, logo antes do álbum ser lançado, de que algo não estava no lugar.
É difícil destacar o que estava faltando. O mundo estava faminto pela qualidade de Madonna. A realidade é que tivemos apenas uma pitada dela. William Orbit sugeriu em retrospecto que M seguiu muitas direções para realmente fazer do álbum o grande retorno à forma, com canções como Gang Bang e Addicted.
Ela tinha uma linha de roupas, uma turnê mundial, um filme e um perfume para promover. Música – a fonte de todo o poder – havia sido rebaixada a uma mera porção de seu tempo, um trabalho de meio expediente e, infelizmente, algo seria sacrificado. Suponho que foi o laser da pista de dança que perdeu o foco, e todo o projeto sofreu as consequências.
Felizmente, a turnê conjunta não sofreu o mesmo destino. Testemunhamos Madonna em sua melhor forma, destruindo multidões com sua confiança atrevida e celebrando a dança no centro de seu circo. Mesmo assim, quando o confete acabou, havia o sentimento de que o trem de Madonna havia passado sem deixar o menor rastro. A era, como em Hard Candy, não perpetuou da mesma forma que Confessions On A Dancefloor fizera anos antes.
O problema é que Madonna é consistentemente brilhante. Quando ela atinge o seu melhor, a música equivale a orgasmos. Momentos como Holiday, Intro The Groove e Hung Up são exemplos. Um abandono imprudente da pista de dança, mas não bobeiras desperdiçadas. Sim, músicas pop sólidas nas quais você quer se perder, se embebedar ou se entregar a uma noite de prazer. Mas são canções de liberdade, de fuga e poder. Uns podem chamá-las de "trilha sonora da saída do armário". No âmago destas pérolas da pista de dança, estão verdades universais inseridas na experiência humana: "Apenas quando danço, me sinto livre assim", "A alma está na música, é lá que me sinto linda e mágica. A vida é um baile, então caia na pista de dança".
O que é um caso de amor entre homens gays e Madonna? É diferente de nossa admiração por outras cantoras – um encontro específico que se distingue do amor por Cher, Kylie, Mariah etc. Enquanto aprecio as qualidades que todas essas fortes divas têm em comum, há algo diferente sobre Madonna. Se você cresceu gay durante o reinado dela, há algo da rebeldia dela no seu DNA. Quando era adolescente, eu me identificava com a recusa dela em ser categorizada. Nem "machão", nem "feminina"; nem "bruta", nem "suave". Especialmente nos anos 80, ela desafiou a definição de "bela", e sua resistência e determinação eram infecciosas.
Tinha 12 anos quando a Virgin Tour foi lançada em videocassete. Enquanto os garotos da minha escola se escondiam pra ver seios em Porky's ou cenas de mamilos em Conan, O Bárbaro, eu ficava colado em frente à TV tentando aprender a coreografia de Dress You Up. Eu vi a audácia transparente desta mulher, que provocava…não, exigia que a multidão pedisse mais. "Eu disse: 'Vocês querem ouvir mais?'", ela gritava durante uma incrivelmente longa pausa no meio de Holiday. Nossa, como eu queria mais!
Sou um eterno defensor de American Life, uma escolha controversa de álbum favorito entre os fãs de Madonna, mas permitam-me apresentar minha solitária evidência: a canção Nothing Fails. É a versão 2004 de Like A Prayer, um pouco mais maltratada, cansada do amor e possuída exatamente pelo tipo de profundidade que eu sempre esperei dos álbuns de Madonna.
Como projeto, sim, sei que é desprovido de hits – mas, pra mim, é uma aula de composição. Como álbum, é um trabalho de arte coeso, pois, claramente, teve 100% da atenção dela. É esta atenção aos detalhes de que um grande álbum da Madonna precisa. O sucesso simplesmente não acontece sem ela.
Alguns projetos passaram do ponto exatamente pois não tinham um elemento crucial: Madonna. Não ligo pra quantos produtores estelares, compositores ou DJs bacanas estejam com ela – eu sempre aposto nela! Quando Madonna decide aparecer no estúdio, há um brilho inabalável. Like A Prayer e Ray Of Light são exemplos. Eis a mulher que ama sua arte, e a paixão é evidente. A verdade é que Madonna é sempre o elemento mais interessante de uma colaboração com Madonna. As coisas apenas dão errado quando este equilíbrio se descontrola. Sempre achei que a colaboração dela com Pharrell, e até com Babyface, ofuscou o quociente Madonna. O som deles permearam o álbum e o resultado ficou sem criatividade. Eu sei, é chocante, né? Madonna nunca será normal!
O trabalho dela com talentos novos e excitantes é, pra mim, sempre mais recompensador. O trabalho com William Orbit, uma escolha relativamente obscura na época, foi revolucionário. Similarmente, o álbum Music com Mirwais a reinventou completamente para o século 21. Quando Madonna entrou em estúdio com Stuart Price, ela parecia estar em uma maré de vitórias. Três incrivelmente originais e bem-sucedidos álbuns pop, com a excelência provocativa de American Life no meio.
Aconteceu algo estranho no Twitter quando anunciei que escreveria este artigo. Li alguns comentários irritantes: de "diga a ela pra começar a agir como alguém da idade dela" a insinuações de que Madonna não compôs seus maiores sucessos (total ficção, já que ela é uma das compositoras pop mais produtivas e talentosas e, estranhamente, raramente recebe este crédito). Eu me vi defendendo o direito de Madonna tirar a roupa – mesmo que não me afete muito, a recusa dela de "envelhecer graciosamente" está de acordo com seus valores, e eu posso apenas encorajá-la. Com todo o respeito, os fãs de Madonna são furiosamente protetores, e uma coisa em comum que percebi foi uma paixão pelos acertos de Madonna, seja lá o que isso for. Meu argumento sempre foi que o foco tem que estar nas canções, e a disciplina deve aparecer não apenas na academia, mas nas ideias. Na música.
Todo compositor e artista ficam com preguiça – é difícil ser bom. Bono Vox, do U2, tem uma ótima frase sobre lutar pela excelência: "Bom é o inimigo do ótimo". E é verdade. Madonna é boa facilmente e sem o menor esforço. Ninguém pode negar isso. Mas, quando ela é ótima, não há ninguém que chegue perto na música pop.
Nesta calmaria antes da tempestade, quero mandar alguns cósmicos raios de luz à rainha. Todos os sinais apareceram: a determinação, o foco e a alegria em ser artista. Podemos todos debater qual era, qual visual ou qual persona foi a mais forte, mas há apenas uma pessoa que pode nos servir tudo isso. Ajude-nos, Madonna Louise Veronica Ciccone. És a nossa única esperança.