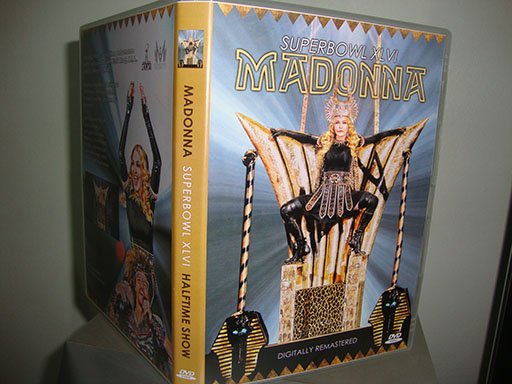 Super DVD trazendo a consagrada performance de Madonna no SuperBowl 2012 remasterizado, coletiva de imprensa, making of, ensaios, reportagens de TV e entrevistas. Som 5.1 Dolby Surround, NTSC 16:9.
Para adquirir, basta escrever para marcosvlmoraes@hotmail.com ou mandar uma mensagem na fan page do site. Saiba mais clicando aqui.
Track-listing:
1. Madonna "SuperBowl 2012" – Vogue, Music, Give Me All Your Luvin' e Like A Prayer
2. Audiences Views – montagem do palco e ensaio de Madonna
3. SNL Stetch
4. Billy Eichner Hits The Madonna SuperBowl
5. Jay Leno Comercial Extendido
6. Press Conference
7. Pré-Game Interview
8. Moment Factory Making Of
9. Shooting The Performance
10. Pós-SuperBowl – diversas reportagens do canal E!, CNN, ET, The Insider, Extra, ET Canadá
Clique nas capturas para ampliá-las.