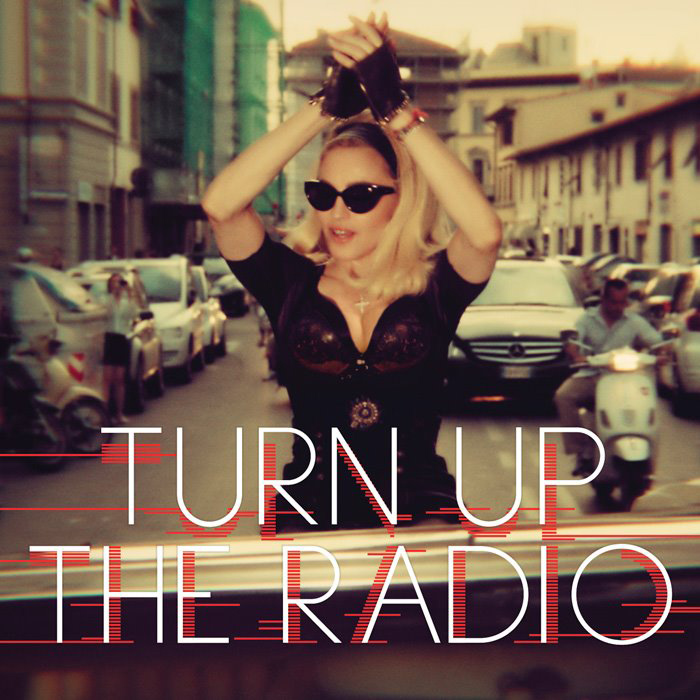 Madonna emplaca seu 43º single #1 no Billboard Dance/Club Play Songs com "Turn Up The Radio", terceiro single do álbum MDNA. "Turn Up The Radio" subiu esta semana do #2 para o topo. O lançamento da música nas rádios nos Estados Unidos será dia 25 de setembro, dois meses depois do lançamento do clipe.
Madonna é a recordista da parada, deixando para trás Janet Jackson (19), Beyonce (18), Rihanna (18), Kristine W (16) e Mariah Carey (15).
Com mais um #1 hit, ela empata com o cantor country George Strait como o artista com mais singles número 1 numa parada da Billboard. Ele tem 44 singles no topo da parada country entre 1981 e 2009. Madonna agora tem 156 #1´s na Billboard.
Vamos lá: Dance/Club Play Songs (43), Hot Dance Singles Sales (33), Hot Singles Sales (15), Billboard Hot 100 (12), Radio Songs (9), Music Video Sales (9), Billboard 200 (8), Dance/Mix Show Airplay (7), Adult Contemporary (5), Internet Albums (4), Digital Albums (3), Dance/Electronic Albums (2), Digital Songs (2), Hot Digital Tracks (2), Pop Songs (1) e Tastemaker Albums (1).
Todos os 43 singles #1 de Madonna no Dance/Club Play Songs
1983, "Holiday"/"Lucky Star" (5 semanas no 1º lugar)
1984, "Like a Virgin" (3)
1985, "Material Girl"
1985, "Angel"/"Into the Groove"
1987, "Open Your Heart"
1987, "Causing a Commotion (Remix)"
1988, "You Can Dance (LP Cuts)"
1989, "Like a Prayer" (2)
1989, "Express Yourself" (3)
1990, "Keep It Together"
1990, "Vogue" (2)
1991, "Justify My Love" (2)
1992, "Erotica"
1993, "Deeper and Deeper"
1993, "Fever"
1994, "Secret" (2)
1995, "Bedtime Story"
1997, "Don't Cry for Me Argentina"
1998, "Frozen" (2)
1998, "Ray of Light" (4)
1999, "Nothing Really Matters" (2)
1999, "Beautiful Stranger" (2)
2000, "American Pie"
2000, "Music" (five)
2001, "Don't Tell Me"
2001, "What It Feels Like for a Girl"
2001, "Impressive Instant" (2)
2002, "Die Another Day" (2)
2003, "American Life"
2003, "Hollywood"
2003, "Me Against the Music," Britney Spears featuring Madonna (2)
2004, "Nothing Fails"
2004, "Love Profusion"
2005, "Hung Up" (4)
2006, "Sorry" (2)
2006, "Get Together"
2006, "Jump" (2)
2008, "4 Minutes," Madonna featuring Justin Timberlake & Timbaland (2)
2008, "Give It 2 Me"
2009, "Celebration"
2012, "Give Me All Your Luvin'," Madonna featuring Nicki Minaj & M.I.A.
2012, "Girl Gone Wild"
2012, "Turn Up the Radio"