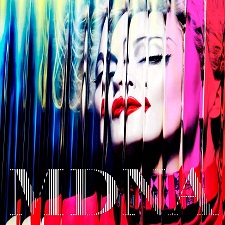 O primeiro álbum de estúdio de Madonna pela Interscope, MDNA, depois de mais de 25 anos como artista da Warner Music, debutou em 1º lugar no Reino Unido com vendas de 56,335 mil cópias, 155.84% de diferença em relação o segundo colocado, David Guetta Nothing But The Beat, com vendas de 22,020 mil cópias.
MDNA é 12º álbum de Madonna a  emplacar a primeira posição se considerarmos a trilha sonora de EVITA, de 1996. Sendo assim, ela ultrapassa Elvis Presley que detinha o recorde de artista solo com mais #1 álbuns. No entanto, ela se iguala a Elvis como top solo artist. The Beatles continuam como os artistas com mais álbuns em primeiro lugar com um total de 15 number ones.
Apesar das vendas fortes em relação ao DJ e produtor David Guetta, MDNA vendeu consideravelmente menos que seu álbum de estúdio antecessor, Hard Candy, que abriu a primeira semana com vendas de 94,655 cópias em maio de 2008, e menos ainda com o 10º álbum de Madonna, Confessions On A Dancefloor, 217,610 mil cópias em seu debut em 2005.
MDNA é o sexto disco número 1 de Madonna no século 21, igualando-se a banda Westlife e ao rapper Eminem, mas atrás do britânico Robbie Williams com sete álbuns no topo das paradas desde 2000. Contando com o álbum Progress, do Take That, Robbie possui oito álbuns #1, e Eminem com sete discos se contarmos seu D12 World.
Madonna também, desde 2000, soma agora oito semanas em 1º lugar, ficando atrás de artistas como:
- Robbie Williams (24 semanas como cantor solo)
- Eminem (23)
- Adele (22)
No total de semanas no Top 75, Madonna soma com MDNA 337 semanas – sendo a 9º artista da lista com mais semanas no Top 75, já que P!nk domina como cantora solo (372 semanas). A banda Coldplay lidera com 436, Take That com 389 e Robbie Williams 382 semanas.
Madonna também é uma das maiores vendedoras de álbuns do século 21 até dia 25 de março, totalizando 7,279,423 milhões. Na sua frente temos Robbie Williams com 14,043,554 milhões, Westlife (11,703,404), Coldplay (10,723,737), Take That (10,698,446), Eminem (8,764,179 solo), Michael Jackson (8,560,586 solo) e Michael Buble (7,864,929). Este número é suficiente para fazê-la a top female solo artist. Madonna está à frente da cantora Adele (6,250,566), P!nk (6,235,719), Dido (6,192,295) e Rihanna (5,860,745). Se você acha que Lady Gaga deveria estar entre as que mais venderam, mero engano, suas vendas são de 3,892,092.
MDNA não é o único álbum de Madonna a estrear no Top 75 esta semana. O caça-níquel da Warner, The Complete Studio Albums 1983-2008 – a Maverick/Warner Bros./Sire/Rhino box set – contendo seus 11 álbuns de estúdio, debutou no #70 lugar vendendo 2,055 mil unidades.
UK 2000-2012
Artistas com mais #1 álbuns
#1 Robbie Williams (7)
#2 Madonna (6)
#2 Westlife (6)
#2 Eminem (6)
Mais semanas no Top 75
#1 Coldplay (436)
#2 Take That (389)
#3 Robbie Williams (382)
#5 Pink (372)
#9 Madonna (337)
Artistas que mais venderam
#1 Robbie Williams (14,043,554)
#2 Westlife (11,703,404)
#3 Coldplay (10,723,737)
#4 Take That (10,698,446)
#5 Eminem (8,764,179 solo, plus 725,957 com D12)
#6 Michael Jackson (8,560,586 solo, plus 404,358 com the Jacksons/Jackson 5)
#7 Michael Buble (7,864,929)
#8 Madonna (7,279,423, plus 56,335 MDNA)
Cantoras que mais venderam
#1 Madonna (7,279,423, plus 56,335 MDNA)
#2 Adele (6,250,566)
#3 Pink (6,235,719)
#4 Dido (6,192,295)
#5 Rihanna (5,860,745)