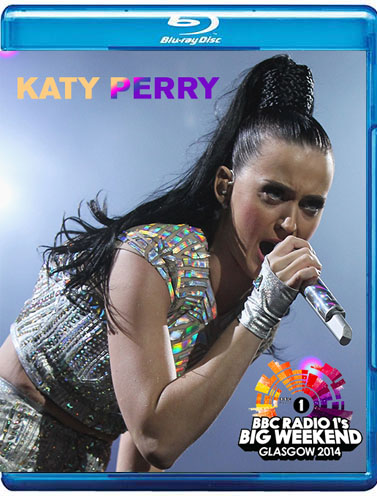 No dia 25 de maio, Katy Perry apresentou seus sucessos no Festival Inglês Big Weekend, promovido pela rádio BBC Radio 1. Para quem quer assistir a este show em alta definição, aqui está em blu-ray e também na versão DVD.
Blu-ray 1080p Full HD, Som Surround 5.1.
Track-listing Blu-ray/DVD:
Bbc Radio 1 Big Wekeend In Glasgow, Scotland – 25.05.2014
1.Roar
2.Part Of Me
3.Wide Awake
4.Dark Horse
5.I Kissed A Girl
6.The One That Got Away
7.Thinking Of You
8.Unconditionally
9.Walking On Air
10.Teenage Dream
11.California Gurls
12.Birthday
13.Firework
EXTRAS
1.Birthday
2.Birthday (Lyric Video)
3.Dark Horse (Feat. Juicy J)
4.John Mayer – Who You Love (Feat. Katy Perry)
5.I Kissed A Girl, Unconditionally E Roar (Capital Fm Jingle Bell Ball 07.12.2013)
6.Birthday (Via Satellite) (The 2014 Billboard Music Awards)
7.Dark Horse & Unconditionally (The Voice Of Germany 13.12.2013)
8.Dark Horse (Live At Grammy 2014)
9.Yesterday (The Beatles The Night That Changed America – A Grammy Salute 2014)
10.Unconditionally (X Factor 15.12.2013) (DVD ONLY)
11.Unconditionally (Live The Ellen Degeneres Show 20.12.2013) (DVD ONLY)

Clique aqui para saber como adquirir o DVD.
Clique aqui para saber como adquirir o Blu-ray.
CAPTURAS REAIS