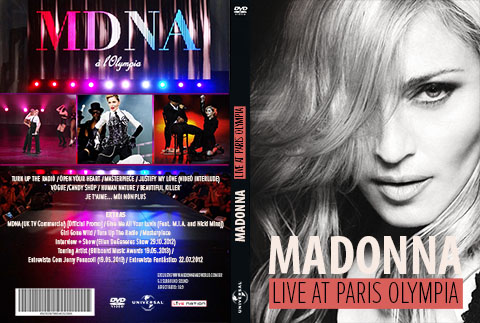 Aqui está a versão em DVD da tour MDNA Tour, de Madonna, gravado no teatro Olympia (aqui está a edição em Blu-ray), em Paris, aqui está, e recheado de extras. O Blu-ray HD tem som surround 5.1, acesso as faixas, porém, sem legendas, região livre.
Track-listing:
TURN UP THE RADIO
OPEN YOUR HEART
MASTERPIECE
JUSTIFY MY LOVE (VIDEO INTERLUDE)
VOGUE
CANDY SHOP
HUMAN NATURE
BEAUTIFUL KILLER
JE T'AIME… MOI NON PLUS
EXTRAS
– MDNA (UK TV Commercial) [Official Promo]
– Give Me All Your Luvin (Feat. M.I.A. and Nicki Minaj) (Video)
– Girl Gone Wild (Video)
– Turn Up The Radio (Video)
– Masterpiece (Video)
– Interview + Show (Ellen DeGeneres Show 29.10.2012)
– Touring Artist (Billboard Music Awards 19.05.2013)
– Entrevista com Jerry Penacoli (19.05.2013)(Billboard Music Awards Backstage)
– Entrevista Fantástico 22.07.2012
Capturas reais (clique na imagem para ampliá-la):
Confira aqui no site outros DVDs disponíveis. Interessado? Só enviar um email para marcosvlmoraes@hotmail.com.